Drops, harsh impacts, falls, and damage are all avoided with the use of phone cases. It's serve as a first line of defense to keep your phone in good working condition for longer use. A bare phone, is like riding a motorcycle without a helmet, or going into battle without adequate battle gear, or driving a car without a seatbelt. So if you are a clumsy one and don't want your phone to shatter into pieces, Don't forget to cover it with a case. Budget-friendly cases are not that expensive compared to the price of your phone.
What are the types of phone cases?
Clear Case
Shockproof case
Flip Case
Wallet Case
Leather Case
Rugged Case
Rubber Case
Slim Case
Holster Case
Arm Band Case
These are only some of different cases you can avail and buy to keep your phone look appealing, elegant, and protected from unwanted damages. But when we talk of phone cases, Spigen and OtterBox are two of the most well-known and well-respected phone cases in the world. Simply said, their products are high-quality, long-lasting, beautiful, comfy, and they satisfy phone users.
---
01. Clear Cases
How are phone cases produced to be clear?
Silicone, a material known for its low cost and flexibility, is commonly used to make clear phone cases. Sadly, as these polymers age, they turn yellow. When they are subjected to overwhelming volumes of chemicals, sunlight, and high temperatures, this natural reaction is increased. Plastic, mainly polycarbonate, TPU (thermoplastic polyurethane), or a combination of the two, is the most frequent material used for phone cases. Every clear and transparent case you choose should not only complement your Phone, but also protect it from scratches and damage caused by drops.
Is it true that clear cases turn yellow?
Transparent casings made of any material are not transparent in the first place — they are typically yellow. Some chemicals is used by the manufacturers of these phone cases to make them appear transparent. It is obvious clear cases makes them so popular. Many opt for a clear phone case to secure their phone, although clear cases have materials that make them prone to slipping through their hands.
---
02. Shockproof Cases
When something is touted as shockproof, it suggests it can withstand a big impact or fall and keep functioning. The Shockproof cases are meant to survive mild knocks and falls.
Is a shockproof case for a smartphone a wise idea?
A shockproof cover might be a smart investment if you're susceptible to dropping your cellphone. Phone cases that are shockproof are built to keep your phone safe against bumps and bruises that come with daily use. Shockproof material is crucial in constructing a really protected case; for example, the Otterbox case is one of the best shockproof cases available.
---
03. Flip Case
A flip case not only safeguards your phone against harm from the outside world, but it also lets you see the time, messages, and alerts, as well as answer phone calls, listen to music, and switch off alarms via the display window. The flip case is the most well-known case for all-around security. They give you all the security for your phone, including an inbuilt barrier shell. Is it advisable to use a flip cover? The flip cover protects and defends the screen display from scuffs and scratches while also preventing inadvertent screen touches. A rear cover, on the other hand, enables a quick glimpse and go screen this is especially beneficial if your smartphone has an always-on screen.
---
04. Wallet Case
Are credit cards harmed by magnets?
Because the wallet case has magnets inside, can it harm the credit cards inside? Some machines may be unable to read your card's electronic data if it has been exposed to magnets. Magnetic hazards for credit cards can be found in a variety of places, including supermarkets, hospitals, and private residences. The magnetic strip on the card is affected by both the strength of the magnet and the duration of time it is exposed to the magnetic force. Magnetic stripes aren't as sensitive to magnets as they were before, though they're unlikely to be harmed by your phone.
Is it safe to keep your phone in a wallet case?
The magnets found in phone covers and clasps are often weak. Your phone will not demagnetize as a result of your phone case. This ensures that credit card cases, such as wallet phone cases and flip phone cases, are okay to use. Wallet cases provide additional protection for your phone. Because they totally cover your screen, they provide significantly more protection than normal phone cases.
---
05. Leather Case
Leather phone cases can surely protect your phone. Leather is a strong material that gives your phone cover an additional layer of durability on the outside. Real leather is difficult to puncture and resists scratches and scrapes that might harm it. Leather is a timeless fabric that is both long-lasting and robust. They have a solid grip and are appropriate for phones with a sleek appearance and are quite delicate. The majority of phone owners choose to protect their phones with a leather rear case.
---
06. Rugged Case
A rugged case is a strong, shockproof, and durable case. It's built to be robust, sturdy, and shock-absorbing, making it the most durable case available. The casing is made of silicone on the exterior and has a plastic inner case for shock absorption. It is Military Grade Tested Protection and was designed to endure the harshest environments. The enclosures are designed to endure drops, shocks, and vibrations while still looking stylish.
---
07. Rubber Case
Another type of phone case is the Rubber case, it is shockproof and durable defend your phone from drops and bumps. Rubber phone cases are the preferable alternative, which allows them to bounce. Rubber phone cases, like rubber balls, bounce naturally when they hit the floor. With this style of case, the chances of your phone being damaged by impact are greatly reduced.
Because silicone covers can provide protection for the entire device while allowing access to all parts. Rubber is durable and absorbs stress well, it can safeguard all sections of the phone from drops and other impacts. Silicone covers are typically waterproof as well. The drawback, rubber and silicone cases are prone to attracting dirt and dust, as well as turning yellow over time. Wipe it down, as well as the silicone knife handle, with white vinegar, anti-static wipes, or a little fabric softener to stop the attraction.
---
08. Slim Case
The best thing about Slim case they don't add much bulk on your phone. They are lightweight, easy to carry, and easy slide it on your purse and pocket. Slim Cases are stylish and modern. If you want your phone to have the most authentic feel possible, On the other hand, the tough case provides tough protection. The thin case will not add bulk to your phone and will maintain the smartphone's original appearance.
---
09. Holster Case
A holster case is a case that allows you to hold your phone on your belt. It's ideal if you frequently stroll or go outside without a bag or purse. Instead of putting your phone in your pocket, carry it in a holster phone case. Some holster cases are extremely utilitarian, allowing you to store your credit cards and other important identification documents. A cell phone holster is a device for carrying and protecting mobile phones. It usually enables the user to clip his or her phone to his or her belt. The phone fits securely inside the holster, which usually has a flap that clicks into place over the top.
---
10. Arm Band Case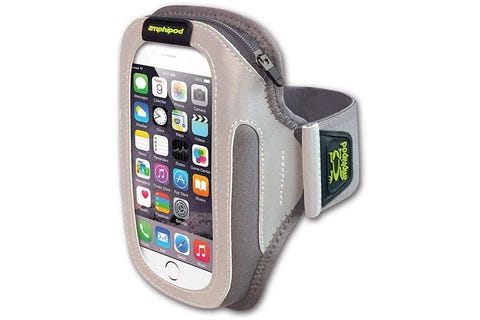 A phone armband case is an easy way to utilize your smartphone while running, walking, or working out without having to hold it in your hands. Another sort of case is an arm band case, which is ideal for running and walking, as well as going to the gym to track your workout progress using fitness workout applications. Several armbands have adequate space to handle additional items such as cash, cards, and a key, while others are designed solely to hold your phone. An armband with a mount that links your phone directly to the band, rather than one with a pocket that you put your phone into, may be better depending on how frequently you use your phone while running.
---
With that, we have come to the end of this roundup of different types of phone cases. We hope and believe it was useful in assisting you in making an educated decision and choosing an option. Also, make sure to check our roundup on the Galaxy Z Fold 2 Cases. Keep your eyes peeled for some more.
---
Read More Related Articles: