iPhone 12 Pro case, find here all the BEST CASES for your iPhone to cover and shield them from everyday wear and tear.
The iPhone 12 Pro starts at $999.00, so it only makes sense to get a sturdy case to wrap around your newly acquired iPhone before exposing it to the rigors of everyday work.
To save your phone from your slippery handling
So here we have a line up of cases to choose from, from a rugged, clear case, leather made, wallet case and other adorable cases.
---
SupCase Unicorn Beetle Pro Series
Full-Body Rugged with holster
Built in Screen protector
Rugged case
Drop proof
Built in kIckstand
SupCase comes with built in kickstand for a hands free viewing. With belt clip holster for good handling. Precise cutouts, easy access on ports, buttons, and functions.
Compatible with wireless charging for a more charging convenient experience. See Also: The Best iPhone 12 Pro RUGGED Cases
---
SupCase Unicorn Beetle Style Series
Best Premium Hybrid Protective case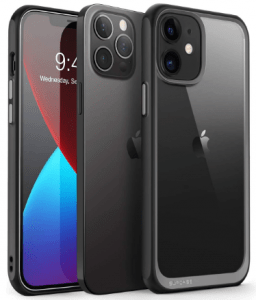 For iPhone 12 Pro 6.1 inch
Clear case Premium hybrid
Thin and light weight
Military grade drop protection
This case is a military grade drop tested, that ensure superb protection on your device. Camera and screen protects, thanks to his raised bezel and raised lip.
Provides advanced clear protective finish, sensitive, smooth button touch. See Also: The Best iPhone 12 Pro WIRELESS charger
SupCase Unicorn Beetle EXO Pro Series (Aqua) $16.99
SupCase Unicorn Beetle EXO Pro series (Black) $14.99
---
Poetic Revolution case
Best iPhone 12 case Dual Layer shockproof
Poetic Revolution for iPhone 12 Pro
Full Body rugged case
With Kickstand
built in screen protector
It has a three layers design offers a full body rugged protection for a drop proof and shockproof. With impact resistant TPU lining and bumpers on the casing offers a 360 degree drop protection.
Along with a built in kickstand for a landscape and portrait angles. Raised bezel for camera and screen protection. See Also: iPhone 12 Best Car Phone holder
---
Poetic Guardian Case
Best iPhone 12 case With built in Screen protector
Clear black case
Shockproof hybrid cover
Dust protection, prevents fingerprints
Ultra clear PC back panel
Raised bezel in the front and back that keeps your iPhone 12 pro screen and camera safe from scratches and damage. Offers shockproof, dust protection, and anti fingerprints. It has a crystal clear back panel for fully displays of your device.
Provides anti slip grip, texturized sides that provides enhanced grip to easy hold and use. See Also: The Best iPhone 11 6.1 inch Cases
---
YouMaker Red case
Best iPhone 12 case Lightweight Precise Cutouts
YouMaker Clear case
Long lasting case
Camera & screen protection
Anti scratch, drop protection
Perfect choice to protect your new iPhone 12 pro. Protect it from scratches and unwanted damage from everyday wear and tear. YouMaker is made from high quality shockproof and drop proof materials, to survive minimal drops and falls. See Also: The Best iPhone 11 Pro Max Cases
---
YouMaker Metallic Designed
Best Rugged Slim fit designed
YouMaker case
With screen protector
Slim fit shockproof
Protection without bulk
Thin and slim case for your iPhone. Without added much bulk yet provides a shockproof and drop proof protection. Passed a military grade protection from 26 times drop test at 48 feet height.
Raised edges for screen and camera protection. Precise cutoffs for an easy access on ports, buttons, and other functions. See Also: The Best iPhone XR 6-inch Cases
---
Spigen Tough Armor
Best Protection case for iPhone 12 Pro
Gunmetal Tough Armor
With Kickstand
Shock resistance
Air Cushion technology
This is the Spigen tough armor case designed for iPhone 12 Pro. Comes with the all new foam technology to provides an extra layer of shock protection. It has a combination of TPU and polycarbonate materials for a dual protection against drops and falls.
Plus with reinforced kickstand for a convenient hands free viewing experience. With raised bezel and lips to protects camera and screen. See also: The Best iPhone XS Max Cases
---
Spigen Neo Hybrid Crystal Designed
Best iPhone 12 Crystal clear case
Neo Hybrid Clear case
Raised Lips
Camera and screen protection
Minimal design
Provides optimal grip, slim, and minimal design perfectly fits on your iPhone 12 Pro. Along with a raised lips for an extra protection on the screen and cameras. The case is slim form fitted and light, hybrid structure with PC back and TPU edges.
Precise cutouts, to have an easy access on all ports, buttons, speakers, and other functions. See also: The best iPhone 8 Plus cases
---
Spigen Thin Fit Case $13.99
Spigen Rugged Armor case $12.99
Spigen Liquid Air Armor $12.99
Spigen Slim Armor Case $15.99
Spigen Liquid Crystal Glitter Designed $11.99
---
OtterBox Defender Screen Less Series
Defend your device
Drop proof, shockproof
Raised edges
Port protection
Pocket friendly
When you are looking a reliable and trusted brand, OtterBox is definitely the one. For protection, pocket friendly, secure grip, this case has it all for an everyday use of your phone.
Passed a military grade drop tested, provides drop, and shock proof.
Offers worry less while you are on duty, on travel, and you are on outdoor adventures. Your phone are safe from dirt, drops, scrapes and scratches. Plus is has a belt clip holster, for a safe handling, and a kickstand for hands free media viewing.
---
OtterBox Strada Series
Genuine Leather Folio case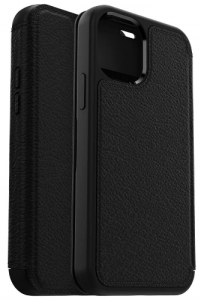 Leather case with folio
Drop protection
Book style cover
Premium stylish protection
Easy to install case, with one piece case slips on and off in a seconds. With dual protection, that provides drops, bumps, scratches and scrapes protection.
Made from genuine leather folio case, slim, sleek, and pocket friendly, plus with a card slots for other essentials. Also includes a limited lifetime warranty.
---
Urban Armor Gear
Military grade drop tested
Feather light construction
Impact resistance
Ultra responsive, tactile buttons
Scratch resistant, drop proof
It features a feather-light composite, designed for your iPhone 12 Pro 6.1 inch. Along with a hard outer shell, soft impact resistance core, and a tough slim case.
It has a multiple rivets and a variety of camouflage prints on the case that adds a good looks on your phone. Looks tough case yet still slim, and pocket friendly. Resilient case and always ready for an everyday adventures.
---
ESR Metal Kickstand
Two way stand, reinforced protection
Flexible case
Drop Protection
Fully adjustable metal kickstand
Screen camera protection
This ESR case features the adjustable, secure, and stable Metal Kickstand. With reinforced drop protection, flexible TPU, soft back, and translucent.
Comes in two way stand is adjustable up to 60 degrees, giving you the right angle for a freely adjustable viewing experience. Raised bezel to guard camera lens and screen displays.
---
XDoria Raptic Shield
Anti Microbial Protection
XDoria Purple Gradient
Drop Tested
Metal protective case
Anti Microbial Protection
Sleek design, extra protection, raised lips, charging friendly, and with anodized aluminum. It has a built in protection against germs, and small particles.
It is the formerly defense shield with a combines hard PC and anodized aluminum metal to form the best protective case for your iPhone. It is made up of a heavy duty machined aluminum frame, to survive everyday wear and tear.
---
Temdan Acrylic Case
Show off true colors
Shock Absorbing Corners
Drop Protection
Military grade
Precise cutouts
Temdan case comes with an ultra thin, lightweight, and precise cutouts. With two layer constructions, acrylic back and soft TPU non slip frame. It has anti collision corner design and offers easy to hold and non slip frame. Raised screen edge for extra screen and camera protection.
---
Caselogy Parallax for iPhone 12 Pro
Midnight Blue
For iPhone 12, & iPhone 12 Pro
Grippy & Stylish
3D Texture
Air space technology
Colors that are vibrant and trendy are intended to compliment your mobile phone for both beauty and scratch resistance. Military-grade safety that really is drop-test approved and shockproof is provided by dual-layered bumpers.
Cordless charging and screen protector compatibility are added in. It's sleek and efficient, with extra elevated rounded edges for improved usability and a comfortable hold. See Also: The best iPhone 11 6.1inch screen protector
---
Miracase full body clear case
Built in 9H hardness Tempered Glass
Miracase Liquid Silicone Gel $15.99
Miracase Marble Pink $17.99
Miracase Glass Case
Clear bumper case
9H hardness tempered glass
Shock absorbent cover, rugged clear back shell
It comes with a built in screen protector, no calibration or tools required, just fit it perfectly to your iPhone. The screen protector is made from 9H hardness, that protects against scratch, scrapes from any hard objects.
With extra cushioning on all 4 corners, to protect your phone against falls and bumps. Along with crystal clear, transparent back plate, clear back panel, which helps to show the real beauty of the iPhone back face.
---
Mkeke Clear case
Perfect fit clear case
Precision lightweihgt
Raised edges
Prevent collision
Drop resistance
Reveal the original design and color of the iPhone. Support wireless charging, crystal clear and soft feeling. Provides precisely cuts openings, strictly in accordance with the buttons, ports, and other functions.
Made from TPU and PC materials, offers a more stronger, drop protection, and scratch resistant. See Also: Best iPhone XS Max screen protector
---
Moko Silicone Gel Rubber case
Slim Fit, shockproof, clear case
Moko silicone case
Soft touch back cover
Disperses impact
charge wirelessly
Power up your device even with the case is on. Its anti dust, scratch free, microfiber lining, and preserves phones shining look. Advanced technology, provides ultimate drop protection. Looks good, beautiful, feel great and comfortable in your hands.
Customs fitted cutouts, thin and light, extreme slim body with smooth flexible offers a maximum protection without additional bulk. Best iPhone XS screen protector
---
Vapesoon case
Waterproof Rugged case
Vapesoon IP68 waterproof case
Rugged clear case
Shockproof, built in screen protector
Exceeds Military drop proof
This is the waterproof case by Vapesoon. It is a certified waterproof case, tested to submerged to 6.6 feet, for about 20 minutes. Suitable for swimming, snorkeling, and water sports.
With protective front casing and built in screen protector. Supports wireless charging, dust proof design, and curved design. – Proper installation is very important to meet the purpose of the case.
---
iBlason Cosmo Series case
Dual layer rugged case
Black iBlason case
Rugged clear case
with built in screen protector
Withstand extreme drops
It has an extra cushioning on all corners to protect your device from drops and accidental falls. With ports covers to keep dust, dirt and moisture out. Texturized edges for a secure grip. The case comes an advanced engineering to give you the best case to keep your phone safe and free from unwanted damages.
Precise cutouts, so you can easily access on all buttons, and functions. Also features, wireless charging, scratch resistant, and drop protection.
---
Read Related Articles
---
iPhone Cases
iPhone Screen Protector
Galaxy NOTE Cases