Who is the richest man in U.K?
[BEST FACE MASK, SURGICAL MASK, N95 ON AMAZON]
The British 2020 richest man is the Hinduja family. Their estimated net Worth is $16.1 billion and ranked 84 in global. Hinduja family control multinational conglomerate called the Hinduja Group. They own real estate in London, like the Old War Office and Carlton House Terrace in Buckingham.
Here are the richest person in United Kingdom in year 2020.
1 – Hinduja Family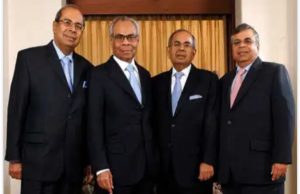 Net worth: $16.1 Billion
Source of Wealth: Banking, Cable Television, Trucks, Lubricants
Global Rank: 84
Sri and Gopi Hinduja is an Indian born and their family are originated from India. But they both live in London U.K. They control of more than 50 companies. The Hinduja family particularly Sri and Gopi are the British Billionaire businessman. Has been consistently ranked among the UK wealthiest people. And Asia's wealthiest people and ranked 55th in the world as richest billionaire family with an estimated $19.5 billion in 2018.
[the_ad id="5327″]
[the_ad id="3637″]
---
2 – Sir Leonard Blavatnik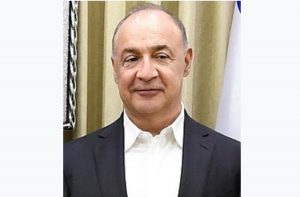 Net worth: $18.7 Billion
Source of Wealth: Diversified, Self made
Global Rank: 61
Leonard Blavatnik born in June 14, 1957 and married to Emily Blavatnik. Blavatnik has a dual Citizenship of United Kingdom and United states. He is a Philanthropist, investor and a British businessman.
In May 2018 Leonard Blavatnik was the 3rd wealthiest man in U.K. In 2019 the Forbes ranked Blavatnik as 27th wealthiest person in the world with net worth of $19.5 billion. In his early career Blavatnik founded Access Industries, an international conglomerate company in New York, U.S.A. In his company Access Industries he includes investments in industries such as Coal, Aluminum, Oil, Entertainment, Petrochemicals, Telecommunications, Media and real estate.
[the_ad id="5327″]
---
3 – Jim Ratcliffe
Net Worth: 11.7 Million
Source of Wealth: chairman and CEO of Ineos group
Global Rank: 110
Sir James Arthur Ratcliffe is a British billionaire, born on October 18, 1952, with a net Worth of 11.4 billion USD. He married to Amanda Townson and Alicia Ratcliffe. He graduated in University of Birmingham London business school. He is the Chairman and CEO of Ineos Group he founded it in 1998. Ratcliffe moved Ineos head office from Hampshire to Rolle, Switzerland in the year 2010. The Sunday Times name Ratcliffe as the richest man in UK in 2018 with a net Worth of £21 billion Euro.
[the_ad id="5327″]
---
4 – David and Simoun Reuben
Net worth: $12 Billion
Source of Wealth: Real Estate, Investment, Self Made
Global Rank: 256
David Reuben and Simon Reuben are both British businessman and Philanthropist. They born in Mumbai, India on 1941 and 1944, Son of David and Nancy Reuben. They become wealthy during the 1970s and 1980s in metals trading and property.
The Reuben brothers became the world most biggest producer of Aluminum. They also expanding their company in mining industry in Morocco, Indonesia and South Africa.
[the_ad id="5327″]
---
5 – Denise Coates
Net Worth: 11.8 Billion
Source of Wealth: Online Gambling Bet365, self made
Global Rank: 142
Denise Coates is a British billionaire born on September 26, 1967, she studied at the University of Sherfield in England. Her spouse name is Richard Smith and she has 4 children and 1 adopted.
Denise Coates net worth is $12.2 billion in 2019 according to Forbes Magazine. She is the founder and Chief executive of BET365.COM that has grown into one of the world's largest online gambling companies, she run the company alongside with her brother John Coates, they were the majority shareholder with 50.01 percent shares of Bet365.
[the_ad id="5327″]
---
6 – Jorn Rausing
Net Worth: $10.3 Billion,
Source of Wealth: Packaging, Tetra Laval, Ocado
Global Rank: 160
Jorn Rausing is a 60 year old swedish heir and businessman a co-owner of Tetra Laval and Ocado. He was born on February 12, 1960 in Lund, Sweden. Son of Gad Rausing and Birgit Rausing, married to Kirsten Rausing. Jorn Rausing ranked at 167 in world richest man according to Forbes.
His source of wealth is Packaging industries. Gad Rausing the father of Jorn bought out Hans from Jorn's uncle for the price of $7 billion. His grandfather founded Tetra Pak a aseptic Packaging technology.
[the_ad id="5327″]
---
7 – Michael Platt
Net Worth: 8 Billion
Source of Wealth: Hedge Fund, BlueCrest Capital
Global Rank: 225
Michael Platt is a British wealthiest HEDGE fund manager with an estimated wealth of 6.1 billion. Michael Platt was born on December 11, 1968 in Preston, England, he studied in London school of Economics.
In the year 2014 BluesCrest was Europe fourth largest hedge fund. He managed over 350 employee and managing over £30 billion money trading. In 2016 Bluecrest profited of almost 50 percent and in 2018 Mr. Platt named as the richest hedge fund manager in the city by the Sunday Times.
[the_ad id="5327″]
---
8 – Ian and Richard Livingstone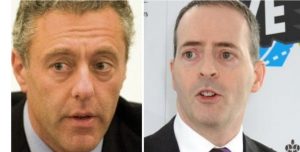 Net Worth: 7.8 Billion, World Ranking: 261, Source of wealth: Real estate, Self made
Ian Malcolm Livingstone was born on May 22, 1962, was married to Natalie Livingstone. Richard Livingstone was born on November 1964, was married to Claire Burns. They both born in London, UK and were both British billionaire and a property developer.
Their wealth comes from building real estate properties such as Hotels, Apartments and high end shops in London. They owned 45 plus Holiday Inn Express hotels in Europe.
They are the owner of the famous $700 million project Panama Pacifico co-owner with Colombian billionaire Jaime Gilinski Bacal. They owned David Lloyd Leisure Luxury hotels, Cliveden house in Berkshire, Hilton hotels in London and Park lane.
9 James Dyson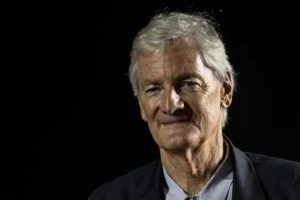 Net Worth: 5.7
Source of Wealth: Vacuum, BlueCrest Capital, Investor and fund Manager
Global Rank: 367
James Dyson was born on May 2, 1947 in Cromer, England, he married with Deirdre Hindmarsh and he had 3 sons and one daughter. He studied in Byam shaw school of Art, he work as a industrial engineer, and academic administrator.
James Dyson is a British inventor, industrial designer and a entrepreneur that founded Dyson Ltd. In 2018 according to The Sunday Times, Dyson net worth is $13.9 billion. Dyson invented the Bagless vacuum clear (DC07).
In 2005 Dyson cleaner's had become the market leader in the United states and outsold the companies that rejected his idea, making his Brand as one of the most popular in the U.K.
[the_ad id="5327″]
---
10 – Barclay Brothers
Net Worth: $5.3 Billion,
Global Rank: 413
Source of Wealth: Real estate, Hotel portfolio, Media and Retail
They are the identical twins brothers known for Retail and Property developer. They were born in Hammersmith, London, United Kingdom on October 27, 1934. They owned Telegraph Group Limited, parent company of The Daily Telegraph and The Sunday Telegraph. The twin brothers bought the island of Brecqhou in 1993.
They purchased the Liverpool based retail company Littlewoods from the Moores family for £750 Million, then merged the company with Shop Direct to form a home shopping market, which operates a majority share of UK home shopping market.
[the_ad id="5327″]
---
11 – Laurence Graff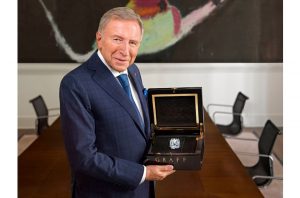 Net Worth: $5.5 Billion,
Source of wealth: Diamond Jewelry, Self made
Global Rank: 363
Laurence Graff was born on June 13, 1938, married to Anne-Marie Graff. He is known as the founder of GRAFF DIAMONDS and operates of more than 50 retail stores worldwide. Graff is known for his Diamonds, one of his clients are includes Donald Trump, Elizabeth Taylor, Sultan of Brunei and Oprah Winfrey.
Laurence Graff comes from rug to richest man, dropped out from school at 15 and work in London Hatton Gardens as a Jewellers apprentice. Then later he partnered business with Schindler and creating small shop jewelry. Graff began selling his jewellery designs to jewellers all over England.
Today he owns polished diamond trading firm in Switzerland, real estate in London and a African diamond wholesaler. In 2008 Graff purchased the Wittelsbach Diamond for £16.4 million.
[the_ad id="5327″]
---
12 – Joe Lewis
Net Worth: $5.4 Billion,
Source of Wealth: Investments, Tavistock Group
Global Rank: 391
Joe Lewis is a British billionaire from London United Kingdom, he was born on February 5, 1937 and married to Esther Browne and Jane Lewis. Joe Lewis is a businessman and entrepreneur, chairman of the Tavistock Group. Lewis also an active Foreign Exchange Trader and the main investor in Travistock Group that owns more than 200 companies in 15 countries. In Lewis portfolio includes: Lake Nona Medical City, Sports Teams, Sporting events, Oil, Gas and Energy, Financial services, Restaurants, Commercial property, Luruxy residential property, and resort property.
[the_ad id="5327″]
---
13 – Richard Branson
Net Worth: 4.1 Billion,
Source of Wealth: Virgin Group with 400 companies
Global Rank: 584
Richard Charles Nicholas Branson is a British business magnate, Philanthropist, author and investor. Branson was born on July 18, 1950, Son of Edward Branson and Eve Branson. Born in Blackheath London, also known as the Old Beardie, Branson has a net worth of $4 billion dollar in 2019.
At the young age he has a desire to become an entrepreneur. He made a chain of record stores, it's called the Virgin Records and his music company began to grow in 1980s. He purchased a country estate in north of Oxford to installed their his residencial recording studio, its called the Manor Studio. Virgin Records grew on to sign other artists including Paula Abdul, Rolling stone, Peter Gabriel, UB40 and Steve Winwood. In 1981 he began to explore in the Airline Industry it is called the Virgin Atlantic Airways. In 2018 the Forbes reported Branson with an estimated net Worth of $5.0 billion.
---
Read Related Articles: