What are the Best Power Bank for your Smartphones?
Our smart phone must have a power bank. Especially suitable for those who travel frequently and often go to different places and have more outdoor activities, meetings and activities.
Smart Phones empty battery and drain is such annoying even so if you are in the middle of places with no available electrical outlet. Our Smartphones with empty battery is nothing but useless.
Most common factors that make our Phone battery to drain fast is browsing on the Internet. Like if we use FACEBOOK or TWITTER, or if we always browse in the Internet, to surf and read Daily News from GOOGLE and YAHOO News.
Other factors that makes the Battery drain very fast. Are online Gaming such as Mobile Legends, Clash of Clans, Call of Duty and other popular games. Like watching YouTube, Netflix, movies, or streaming videos on some a particular Website.
All of these things that we do on our smartphones consumes the Phones battery very quickly. That's where the necessity of a POWERBANK is very much-needed, to make use of our smartphones more longer time.
Let us help you to find the Best and Durable Power Bank that will give you more time to extend the use of your Smartphones.
---
01.
Best Overall Power Bank     
This ZENDURE A8PD 26800mAh can give your smartphone battery a longer life. This Power Bank charger is one of the best-selling Portable Power banks. Zendure Brand is a well-known brand for making tough and durable devices.
This Power Bank is 30W, with 2 in1 Cable, LED Digital Screen, 5 Port Quick charge. Compatible for Android and iPhone Smartphones. can charge smartphones 50 percent in just 30 minutes of charging. It has an LED indicator to see the remaining percentage of the power is left.
It can charge 4 devices at the same time. Can charge 12″ Macbook 2 times, iPhone X charge 7 times, Samsung Galaxy S9 Plus charge 5 times.
---
02.
Best Portable Power Bank   
ZENDURE A8QC 26800mAh is an ultra tough quick charge with 4 USB Port High Capacity with a Digital LED screen. This Zendure A8 QC is only about $89.99. It has 4 output ports that can charge 4 devices at the same time.
Laptop Compatible with Qualcomm QC 3.0 Super high-capacity and with LED Display compatible for Samsung, iPhone and other Smartphones. This Zendure is a quick charging 3.0 and 33.5W output that can charge 0 to 80% in 35 minutes of charging time.
Also, with a long-term Standby mode of up to six months, which is ideal for emergency power. It can charge 4 devices units at the same time. It can charge iPhone X 4 times, Samsung Galaxy S8 6.5 times. It is ultra durable, crust proof and shock absorbing as one of the most durable power banks.
---
03.
Best Ultra Slim Power Bank  
This Zendure is thin but strong, and it charges quickly. It is compatible with iPhone, Nintendo, Samsung, and other Smartphones. It is as thin as the iPhone X with just 0.59 thick and 4.1 in weight, yet durable and lightweight that fits in your pocket. can charge your smartphones with 50% power in 30 minutes.
---
04.
Best Fast Charging Power Bank   
Zendure (RED) A3TC is one of the best power banks for the iPhone, very durable with 3A output, Zen+ Technology for iPhone X, Samsung Galaxy S9 Plus and more. Fast charge dual output with type C ports supports 15Wm, 3 times faster charging speed. It can fully charge your iPhone 8 3,6 times, iPhone X by 2.4 times, Galaxy S9 Plus by 2.4 times and is compatible with almost all smartphones and tablets.
---
5.   ANKER Quick Charge 3.0, 5 Ports Wall Charger       
ANKER brands are the leading brands when it comes to Portable Charging devices. Anker uses Qualcomm with quick charge 3.0. It has power ports at 5 speeds that makes multiple fast charging. It has a 4X faster charger which is able to charge 80% in just 30 minutes. The 5 ports generate 63W of power, allowing multiple devices to be charged at the same time.compatible with Android and iPhone Smartphones and Tablets.
Anker has more than 20 million Happy Users and still counting. This Anker device has advanced safety features that provide surge protection, short circuit prevention, temperature control and gives total protection for your devices.
---
06.
Best For Value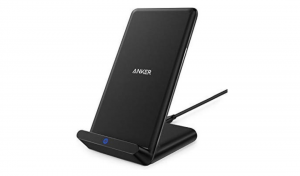 Anker Wireless Charger is compatible with iPhone Xs, iPhone Xs Max, Samsung Galaxy phones, note 8 and more. This Anker charging device is cable less. You will just set down your phone and it will charge it fast and quickly.
The best and simplest way to charge your phones without a cable, which can charge your phones vertically and horizontally.10% faster than any wireless charger device. They also have an LED Indicator. It is certified safe, with no overvoltage, advanced temperature control.
---
07.
Best Multi Ports Power Bank   
The RAVPower has a 6 port output 2.4A that simultaneously charges six phones and tablets at once. It has a Gigantic 60W power supply that gives a 12A output that charges at full speed. With safety precautions which prevent your devices from overheating, overcharging and from short-circuit.
There are about 500,000 satisfied and happy users of the RAVPower Power Bank device, the best power bank for the iPhone.
Note: This device does not support Qualcomm quick charge.
---
08.
Best Affordable power bank   
This Portable Charger has 16,750 Milli Ampere of power to charge your phones and devices to extend the battery longer. Pack with Dual iSmart 2.0 USB Ports with built-in Flashlight. It has a 4.5A Max Output design for Nintendo Switch, iPhone and all Android Phones and Tablets as the best power bank for the iPhone.
It can charge 2 devices simultaneously at 4.5A charging speed because of the iSmart 2.0 technology. RAVPower has more than 400,000 satisfied and happy users all over the world.
---
09.
Best High Capacity power bank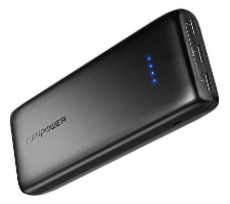 The RAVPower (Black) 22,000mAh Portable Charger is also the best power bank for the iPhone that has a 5.8A charging Output with 3 Ports. This device has a Fire Resistant Shell made with alloy material which is used in Mercedes-Benz.
It is built with a Panasonic IC Chip for advanced power management and a ten-layer security system. charge 3 devices at the same time using the iSmart 2.0 USB ports. It can fully charge the iPhone X 4.9 times, the iPhone 8 7 times, the Galaxy S8 4 times, and the Galaxy S7 5 times.
Inside the Box: 1 RAVPower Ace Series  22,000mAh Power Bank, 2Micro USB  Charging Cables, 1 Carry Pouch, 1 Lifetime Warranty Card, 1 User Guide.
---
10.
Best to Charge Multiple Devices   
The RAVPower 26,800mAh packs have a 5.5A output, three ports, and a two-ampere-hour input via the iSmart 2.0 USB pack. Compatible for iPhone, iPad, Samsung and other Smartphones. It can charge three devices at the same time thanks to the powerful iSmart 2.0 USB Ports, making charging faster and safer.
This monster Ravpower 26,800mAh battery can charge your phone more than 5 times and a tablet 2 times. It weighed about 1.01 pounds, was released in July 2015, and weighed about 1.01 pounds. This is one of the best power banks for the iPhone.
Best to charge this device by up to 13 to 15 hours fully charged to reach the best   performance of the device. You can use it by up to 9 days if fully charged.
---
11.
Best Selling Portable Power Bank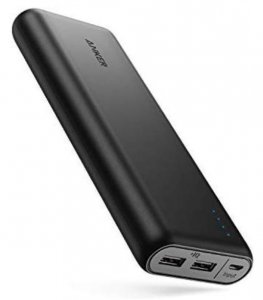 This Anker power charger is one of the best selling products by Anker. Compatible with iPad, iPhone, Samsung, Xperia, Vivo and all other smartphones and devices. It is one of the fastest charging devices available on the market.
Portable and light to carry with you and fits easily in your bags, backpacks and in your purse.
The Powercore 21000mAh can give you a 7 day charging capacity to charge your phones and other devices. Portable and pocket-friendly, it charges quickly and is universally compatible, and it is made of high-quality materials that will last for a long time.
---
12.
Best Lightweight Power Bank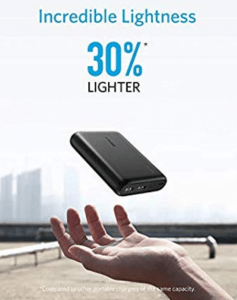 This is the ANKER powercore 13000mAh super portable but compact with so much power inside. Just imagine almost a wallet size portable charger but able to charge an iPhone 4 times. It is 30% lighter than any charging unit.
It uses a 2-port that can charge an iPhone, Samsung phones and all other smartphones plus other devices.
With the high technology PowerIQ Voltageboost that provides high-speed charging. This Anker power-IQ technology can deliver fast charging to any devices such as iPhone, Samsung, Cameras, Tablets and more.
---
13.
Best for Travel Power Bank   
This Anker powercore 26800mAh is light in weight but colossal in power. This can power up your phones for 6 days during your outdoor activities. It has 2 input recharging to double the time of recharging the power bank and uses 3 USB ports to charge 3 devices at the same time.
Compact with a power charge of 26800 milliamperes.
Built with very high quality durable materials and sleek slim designs, it easily fits on your bags, backpacks and on your purse. Equipped with super fast charging technology and with multi-protect security that ensures safety. 
---
Recommended Articles
Watch For Men