Amazon Affiliates Marketing Program
For those Filipino bloggers, the Amazon Associates is welcoming foreign bloggers includes Filipinos who loved to blogs, and shared their fashion in writing original articles. So if you are a fashionate writer or bloggers. You are very much welcome to become an Amazon Associate.
Why choose AMAZON? The simplest answer is, Because the Amazon is the leading Affiliate Marketing Program platform. They have the most easiest and the simplest way to earn through product linking. The integration is really easy to understand even a newbie blogger will easy to learn the process of installing and linking every products from Amazon to your website.
Although there are other Affiliates Program out there, like, Clickbank, Vigilink, Shareasale, Walmart, Ebay, Alibaba and many more. But personally I choose Amazon over them.
How to become a Amazon Associates or Amazon Affiliate?
First thing, you must have a Website or a Blog site. Then integrate your website with Amazon. Go to Amazon Associates.com click join, fill up the form provided by the Amazon and then submit. You must complete the Tax Information question for you to be able to join the Amazon Associates. Now the next thing is, the approval of your website.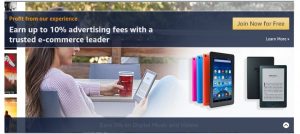 How your website will approved by Amazon?
If you have finished the application process of joining the Amazon Associates. You need to wait for your site to be approved. First, you need to have a 3 sales in a period of 180 days. If you hit that 3 sales, then the approval of your site will be granted. You have a 180 days approval from Amazon, that is enough time to spend and create more articles and post it on your website. The more articles you have posted the more chances your website will be approved.
Note: Read carefully the guidelines and rules given by Amazon, because Amazon has the right to terminate their services at anytime if they see that you violated their rules and implemented guidelines. So you must take note of it.
How to get paid from Amazon?
As a foreign Associate, particularly in the Philippines. Amazon Associate may pay Filipino Associates via Check. If you have reach the minimum threshold of $100, then you will be eligible to receive the payment thru "check". Just make it sure to give your exact address to receive your payment from Amazon.
Although there is a risk when choosing this kind of payment method. The Check may take almost a month or sometimes even more before it reach into your door step. And the worst scenario is, the check may lost in his travel. But there is another option, thankfully there is another one which you can get your payment from Amazon. It is via "PAYONEER", here I will show you the step by step method.
Amazon via Payoneer
Here is how, you can get your payment via Payoneer. First you need you have a Payoneer Account. If you do not have a Payoneer account, here is the Payoneer Link. After you finished creating a Payoneer Account. You need to link it into your Amazon Associate account via bank to bank method.
Step by step method for linking your Amazon to Payoneer
Log in to your Amazon Account, then click 1 – Account Settings, then click 2 – Change Payment Method. The Amazon will ask for Two Step Verification method. Enter the OTP that the Amazon sent to your mobile number. Then click 3 – Pay me via direct deposit. The next procedure is, go to your Payoneer account, to integrate your Amazon to Payoneer.
The Payoneer has 4 country options or 4 available currency to use. United States dollar currency, U.K currency, Germany currency and Japan currency. We encourage you to choose Dollar currency, because Amazon are based in the United States.
In your Payoneer, click U.S currency, then copy and paste the details that the Amazon are providing. 1 – Bank name, 2 – Routing number, 3 – Account number, 4 – Account type. After that click submit, and you are done. You can now receiving payment from Amazon directly to your Payoneer account with no hassle and worry free.
How to earn on Amazon?
You can earn on Amazon from 4% up to 10% on every product sales that they made a purchased through product link. So every person who visited your site and click on the link you provided and made a purchased you earn a commission. The Amazon has a 24 hour or one day validity, that means if someone click your Amazon link, it has a validity of 24 hour period effectivity. So start now and join the Amazon Associates and start earning from your website.
---