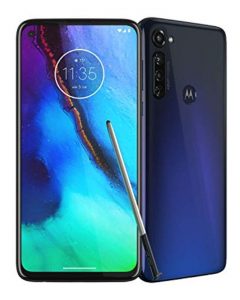 Motorola G Stylus 48MP camera, 4GB RAM & 128GB storage
Motorola G Stylus is good mid range Android phone. Compact with built-in Stylus, 48MP triple camera, up to two days long lasting battery life, Octa-Core processor and a 128 internal storage.
Motorola G Stylus cuts his price from his original price of $299.00 down to only $199.00. This is a very good offer by Motorola for a low budget money.
48 MP triple camera system
Get ultra-clear, ultra-vivid photos in any light. The 48 MP main sensor gives you sharper, brighter 12 MP photos using Quad Pixel technology. You'll never miss a moment thanks to laser autofocus, which brings your subject into focus in the blink of an eye. No matter what the conditions, the f/1.7 aperture lets in more light, while large 1.6μm quad pixels deliver 4x low light sensitivity.
Built-in stylus
The integrated stylus provides you with precise control and a whole new way to express yourself. Way more accurate than your finger, you can edit photos, jot notes, sketch artwork, copy and paste text, mark up screenshots, you name it. The stylus is seamlessly integrated with the Moto Note app, so you can start writing without even unlocking your phone.
Two days battery life
Running out of juice is no fun. That's why moto g stylus gives you a 4000 mAh battery, designed to last up to two days on a single charge2. Stream music for 143 hours, or shows and movies for 19 hours. Plus get 22 days of standby time, and know you have battery life when you need it most.
Octa-core processor and 128 GB of storage
With a Qualcomm Snapdrago 665 octa-core processor and 4 GB of RAM, moto g stylus packs all the performance you need. Browse, watch, work, and game in an instant. Plus you get 128 GB of storage, so you never have to worry about room for music, movies, photos, and videos.
---
Related Articles