TAB S7 PLUS case, find it here some of the best case for your Samsung Galaxy Tab S7 Plus 12.4 inch.
The Galaxy Tab S7 plus comes with a PC performance Tablet portability. Entertainment upgraded, you can experience cinematic viewing in your hands, with larger screen displays. Super AMOLED screen, quad speakers tuned by AKG, Dolby Atmos surround.
Improved 9ms Pen latency, redesigned S Pen take notes and mark up papers effortlessly.
Fast charging 45W ,and you enjoy watching video playback for a longer 15 hours of video playback. Perfect for gaming, with an immerse screen and bluetooth enabled. With features like stunning brightness, HD clarity, wide 13 mega pixels and ultra wide 5MP dual back, 8MP front facing cameras. Price start at $843.
Before buying this new 2020 Tablet by Samsung, we suggest you to get a Durable, elegant, leather, and shockproof case. For you to enjoy a longer use, and everyday daily use of the device.
We have line up this great cases for your Tab S7 Plus 12.4 inch tablet. You may like this to see, the Best Screen Protectors for Tab S7 Plus.
---
01
Best OverAll Case for Tab S7 Plus
Key Features
Best overall case for Galaxy Tab S7 plus
Soft TPU case
S Pen holder
Auto/Wake function
Easy access on all functions
Excellent workmanship with premium PU exterior and soft TPU case comprehensive daily protection for galaxy tab S7 plus tablet built-in S pen holder S pen is not included.
Easily to carry your S pen with your device.
With wake on open sleep on close for more energy saving. Moreover, comes with premium PU leather breathable resin board soft microfiber. Lastly, it has easy access to all ports of tablet and precisely fit with the model S7 plus. See Also, Best Cases for Galaxy Tab S7
02
Best Shockproof Slim Case
Key Features
Shockproof Slim Case
S Pen Holder Support
Auto/Wake Sleep
Precise Cutouts
The case provides soft PU leather exterior cover translucent flexible TPU back. The case fully protects your tablet from daily scratches while showing the original background color of a tablet.
Also comes with slim protective case with an S pen holder for an convenient and comfortable for daily carrying.
With a precise cutout allows easy access to all buttons and ports. The smart case support auto magnetic sleep wake functions which can reduce power loss and battery consumption of your tablet .
03
Best Multi-function Rugged Case
Key Features
Rugged Heavy Duty
Shockproof Case
With Hand Strap
Rotating Kickstand
This is the Multi function rugged and shockproof case from ProCase. Its a complete package case to your Samsung Galaxy Tab S7 Plus.
Comes with adjustable and removable shoulder fit strap, that could mount it to your car headset, for a back seat hand free viewing experience.
Ideal for working studying and traveling.
With precise cutouts to ensure all access on all buttons, ports, USB, and speakers. Lastly, it is shock and drop resistant to protect your tablet from drops and falls. See Also: Galaxy Tab S7+ Best Keyboard Cases
04
Best Multi-Angle Folio Case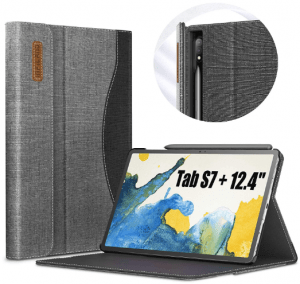 Key Features
Multi-Angle case
Folio Cover
Built-in Pocket
Magnetic Adsorption
Multi viewing experience
It is easy to use anywhere, anytime and any place. Portfolio, multi angle viewing case. This is the INFILAND case designed for your Galaxy Tab S7 Plus. With magnetic adsorption features, that easily adsorb by gently releasing it.
Support charging, pairing, and very convenient to take out.
Moreover, it has a pocket design, and can pack folder or notebooks and other essential documents. Also with Multiple stand viewing positions for a hands free typing and watching modes. See Also, Galaxy Tab S7 11.0 inch Best Screen Protector
05
Best All Around Protection case
Key Features
TriFold Stand Case
With 9H Hardness Tempered Glass
With Pencil Holder
Auto/Sleep Function
Magnetic Closure
Slim, Lightweight, Trifold stand case with reinforces and anti fall features. Packed with perfect design hole accurate, exquisite workmanship for full Tablet functionality.
Effectively prevent from scratches, thanks to the built in screen protector.
Made from ultra premium materials, rounded edges, high responsiveness and high transparency. Prevents dust, fingerprints, with one push easy installation. Offers great exterior, the hard back shell and the frosted back cover allows to show the natural color of the device. See Also, Galaxy Tab S7 11inch Best Keyboard Cases
06
Best Leather Translucent Matte case
Key Features
Built in S Pen Holder
360 Degree Swivel Stand Cover
Landscape and Portrait Viewing
Adjustable Angles
Convenient to Carry
Here is the best leather case for Samsung Tab S7 plus made by Fintie. It is portable and convenient to carry, perfect for work, school and for travel.
With two anti slip grooves for stable bracket and adjustable angles.
Moreover, it has built in all new S Pen holder, just press the SPen through the small slot for the Pen to goes out. With 360 rotating cover for quick stand and comfortable watching and typing mode.
Designed with functionality, elegant and practical use. Made premium leather and with hard shell design that offers a molded exterior that protects the glass displays. See Also: Galaxy Tab S6 Best Keyboard Cases
07
Best Slim Trifold Smart Case Cover
Key Features
Slim Tri Fold Slim Case
Auto/Wake Function
Magnetic Attach S Pen
Multi Viewing Angle
High Quality Materials
Fits for Galaxy Tab S7 plus 12.4 inch, with Auto/Wake function, Slim and Tri fold smart case cover. Provides multiple angle for portrait and landscapes. It support S Pen that magnetically attached on the side of the case.
Also support wireless charging without taking off the tablet case.
Made from premium quality soft leather materials, inside is a soft microfiber texture cortex which protects the screen from scratches
Provides Trifold for multi viewing experience perfect for watching movies on YouTube and on Netflix. It is simple Slim and elegant design, will feel super delicate and exquisite craftsmanship. See Also: Best Stylus Pen for Galaxy Tab S6 10.5inch
08
Best for Value Case
Key Features
Rugged Heavy Duty
With rotating Kickstand
Shockproof Protective Cover
With Hand Strap
Its comes with Rotatable and Adjustable easy to hold hand strap, to help you for an easy hold with one hand. Provides a 3 layer multi functions case, rugged protection and drop protection.
Support multiple standing view, landscapes and portrait angle mode.
Further, with 360 degree rotatable kickstand offers a optimum position on typing and watching angle. Comfortable and ergonomic back belt handle allows you to have a good grip on the device.
Its provides a worry free from any dropping and falling the tablet on your grip. See Also: Galaxy Tab S6 Best Keyboard Cases
09
Best Brand case for Tab S7 plus
Key Features
Compatible for Tab S7 Plus 12.4 inch
Highly Secured
Easily Accessible
Raised Bezel
Camera and Screen is well protected from scratches, it has raised bezel on all corners. Precise cutouts that easily access to charging port, buttons, speakers and other functions.
Provides multiple angle for typing, drawing and viewing mode.
Fully compatible with SPen and with built in pen storage. Further, with built kickstand for a hands free viewing experience. Also with shock absorbent, dual layer and air cushion technology for enhanced protection on your device. See Also, Galaxy Tab S6 Lite best Keyboard cases
10
Best Flexible Soft Folio case
Key Features
S Pen Holder
Support Wireless Charging
Flexible Soft TPU
Folio Case
360 Degree Full Protection
Scratch/Drop Protection
Protects your tablet from everyday wear and tear. It is made from soft TPU back provides impact resistant. Fingerprint resistant, scratch proof and drop proof. Further, inside is a microfiber for soft and delicate protection.
Along with leather exterior that offers scratch and abrasion resistant.
SPen holder for comfortable and easy access. Find your perfect angle for viewing and for typing position. Moreover, it has auto/wake functions for energy saving features and battery protection.
11
Best Full body Protective Case
Features and Details
360 degree Swivel Stand & Strap
Heavy Duty Shockproof
Rugged Full body Protective Case
With Built in Kickstand
Aidashine case provides full body protection on your Samsung Tab S7 plus. It provides soft hand strap and rotating stand. Secure your tablet with more convenience in writing or play with it.
The kickstand provides multiple angle and viewing position.
The case is made from high grade thermoplastic PC and with anti skidding silicone for comfortable handling feeling. Along with easy access to all buttons, controls, ports and speakers. Easier to use perfect for outdoor, working, traveling and gaming.
12
Best for Value Case
Key Features
Multi Angle
Hard TPU Back Cover
Shockproof Folio Case
Ultra Slim & Lightweight
Screen Protection
Soke case is multi angle case, provides convenient and comfortable viewing for typing and watching position like Landscapes and Portrait. With Built in S Pen holder to prevent falling and losing of the SPen.
Snug fit design with precise cutouts to easy access all features and buttons.
It is made from Hard TPU back shell to protect the device from shocks, drops and hard impact. Ultra slim and lightweight, minimal design and style provides good handling. Offers heat dissipation, honey comb pattern design that enhance heat transfer.
---
Recommended Articles
Galaxy Tab S7
Galaxy Tab A